So what's differentiation of content and what does it look like in an upper grade classroom?
Content refers to what teachers teach and want students to learn. It helps teachers cater lessons to meet the needs of each student, which leads to a more productive and successful learning experience.
Differentiation of content includes differentiating for student readiness, interest, and learning profile. Here's what you need to know about differentiation of content, along with some examples of how you can implement it in your own lessons.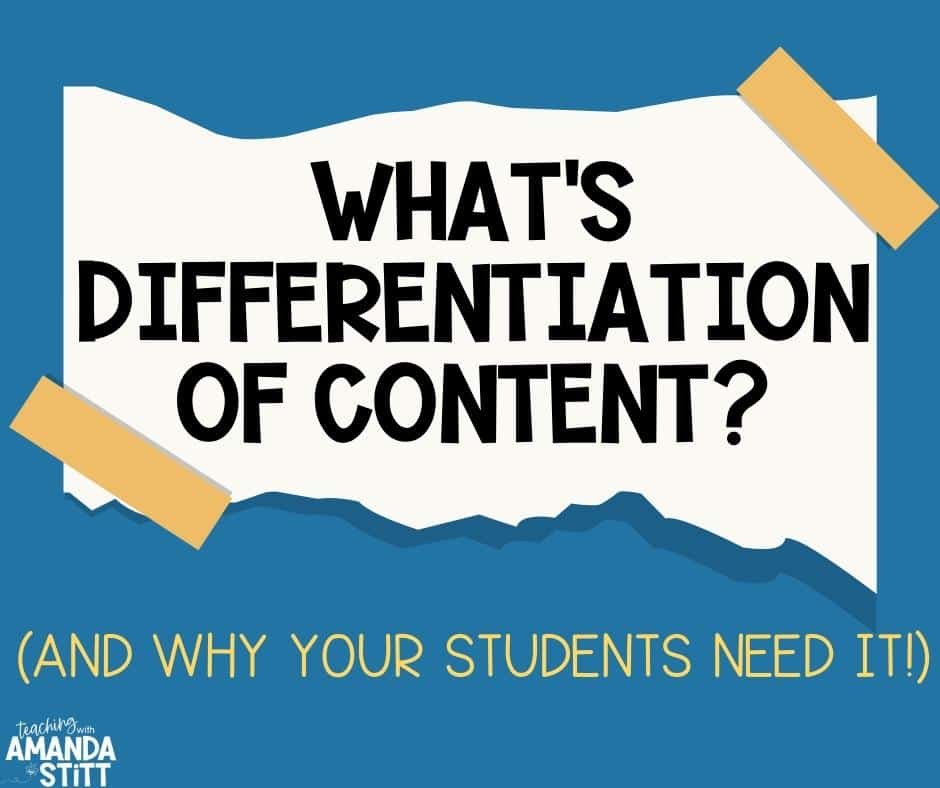 Differentiating Content Based on Student Readiness
Differentiation of content includes differentiating based on student readiness. So what exactly is readiness? It refers to a student's entry point when learning a new skill or completing a task.
In a class full of diverse learners there will be a variety of readiness levels. Academically, some students may have more background knowledge on a topic or have already learned a needed skill, while others may not have any experience.
Likewise, some students may have more behaviors for learning in place than others which allows them to be more self-directed in their learning. No matter what level students are currently at, we can differentiate to meet their readiness needs. Here are some ideas…
Create an anchor chart about a topic with students that they can refer back to when completing a task or activity. For example, create an anchor chart about ways to show a number and display that chart in your classroom.
Set individual goals with students about learning new tasks. For example, set individual goals with students regarding how or when they will practice and learn their math facts.
Use a visual display to guide students in work completion expectations. For example, use these FREE Morning Messages to create independent and self-starting learners in your classroom. These messages are colorful and include a daily fact or quote that will engage your students. You can customize each slide to include information that you want to pass along to your students in order to help your mornings run smoothly. They also include picture icons that you can add to your slide, to help differentiate for students who do well with a visual prompt.
If you LOVE the FREE week of morning messages and want more, check out this 40-week resource of morning messages!
Differentiating Content Based on Student Interests
What's differentiation of content based on student interests mean? Basically, it is figuring out what your students like and are interested in and including those interests in your teaching. Differentiating for interest will help you to better engage your students in learning, and it will also make it easier for you to differentiate instruction. Let's take a look at what differentiation of content according to student interests looks like…
Use varied math literature. There are some great picture books that bring math concepts to life and can really engage students. For example, read the book Sir Cumference and the First Round Table when discussing diameter, circumference, and radius.
Create and use word problems about topics that are interesting to students. For example, do you have a lot of students interested in Pokemon? Try to add some Pokemon math problems to your activities.
Provide relevant examples for students. A great example of incorporating interests and relevancy in your math time is to use advertisements. If you are studying adding and subtracting decimals, have students create a list of everything they need in order to do something they are interested in (i.e. baseball, dance, throwing a birthday party). Then give students an ad or have them go online and find the prices so they can calculate how much everything will cost. This provides students with a relevant experience around something that they find of interest.
By differentiating based on interests, you can ensure that all of your students are actively engaged in learning. And when students are engaged, they are more likely to retain what they have learned.
Differentiating Content Based on Student Learning Profiles
When it comes to differentiating instruction, there's no one-size-fits-all approach. The key is to identify your students' various learning profiles and then adjust your teaching accordingly. Some students are visual learners who benefit from seeing pictures and diagrams. Others are auditory learners who need to hear information in order to understand it. And still, others are kinesthetic learners who learn best by doing. Here are some ways you can differentiate according to learning profiles.
Use hands-on learning. For example, use different-sized containers with various materials to explore volume.
Use visual tools. Visually model how to add and subtract fractions with models.
Incorporate math podcasts. Everyone loves a podcast these days and they are a great way to differentiate for auditory learners. Mic Drop Maths is a podcast that was started by 2 teachers in Virginia. Each episode focuses on a math concept and includes students, stories, jokes, and good mathematical information. They are so fun for students to listen to. Check Mic Drop Maths out here.
By taking the time to assess your students' learning profiles, you can adjust your instruction accordingly, giving everyone a better chance to succeed.
Differentiation is an essential element in our classrooms. More specifically, differentiation of content helps us to reach all students. By catering to student readiness, interests, and learning profiles, you can create a more personalized learning experience that leads to better outcomes for all students. Best of all, it doesn't have to be complicated.
There are little things you can easily do each day to differentiate content for your students. This week, try using one of these differentiation strategies in order to help all of your students learn and grow. Remember, start small and build upon what works best for you and your students. What strategy will you try out this week?