Are you looking for ways to add a little holiday cheer to your classroom? Check out these five ideas that bring the magic of Christmas from around the world into your upper grade class, all while staying academically focused. From traditional stories and celebrations to fun activities and projects, I've got you covered. So read on for all the details!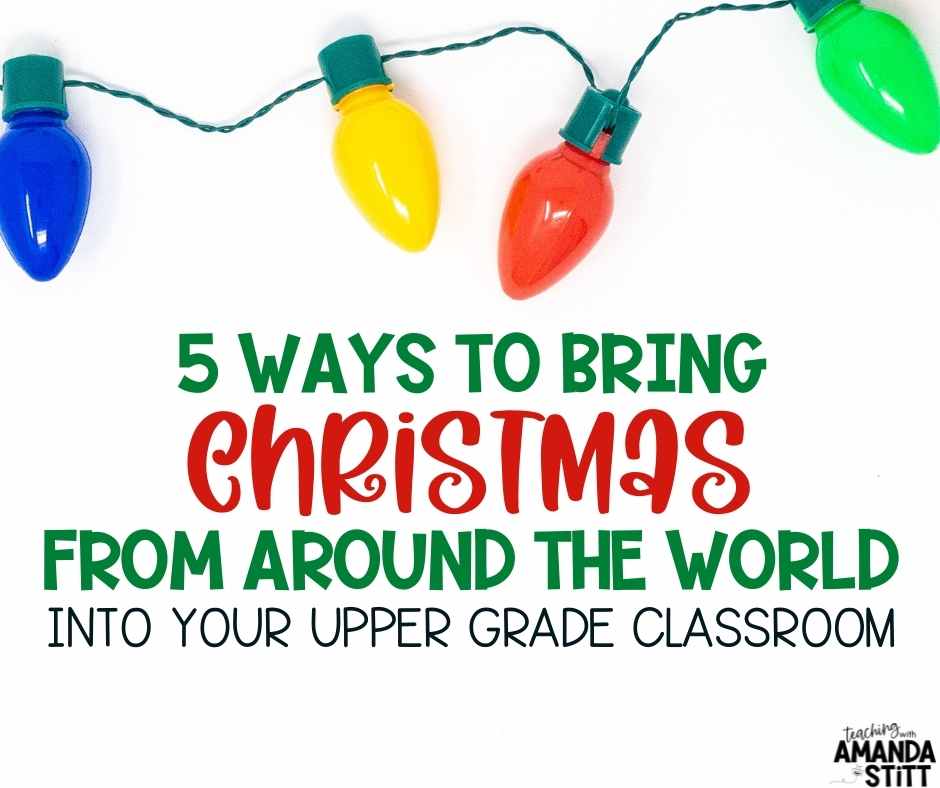 Christmas From Around the World Themed Days (+ more festive winter holidays)
A unit on holidays from around the world is a great way to celebrate different cultures and traditions in your upper grade classroom. One of the most popular holidays is Christmas, which is celebrated in countries all over the world. However, there are many other holidays (Hanukkah, Lunar New Year, Diwali, and more) that are celebrated in the winter months as well. In order to celebrate these various holidays, create a day where you focus on learning about each holiday or the way Christmas is celebrated in each country. Here are some ideas on what you can do to celebrate each holiday…
Read informational text about each holiday. I love to find leveled readers and use them as part of my small group reading instruction.
Learn and play games that are a part of each holiday. For example, you can play dreidels when learning about Hanukkah.
Create art that represents Christmas (or holidays) in different countries. Create a poinsettia when studying Christmas in Mexico or create rangoli designs when discussing Diwali.
Bring the tastes of the season alive! Depending on your school you may or may not be able to include actual food, but you can at least explore recipes. Make a recipe book to include at least one recipe from each country or holiday you've learned about.
Don't forget the pictures! Show lots of images, maybe even a video clip displaying how different cultures and people celebrate each holiday.
Creating different themed days in the month of December is a fun way to teach your students about Christmas from around the world. When you do this, be sure to create a chart with your students comparing all of the holidays. What similarities do they notice? How do people celebrate things differently? They may be surprised at how much they have in common with people all over the world.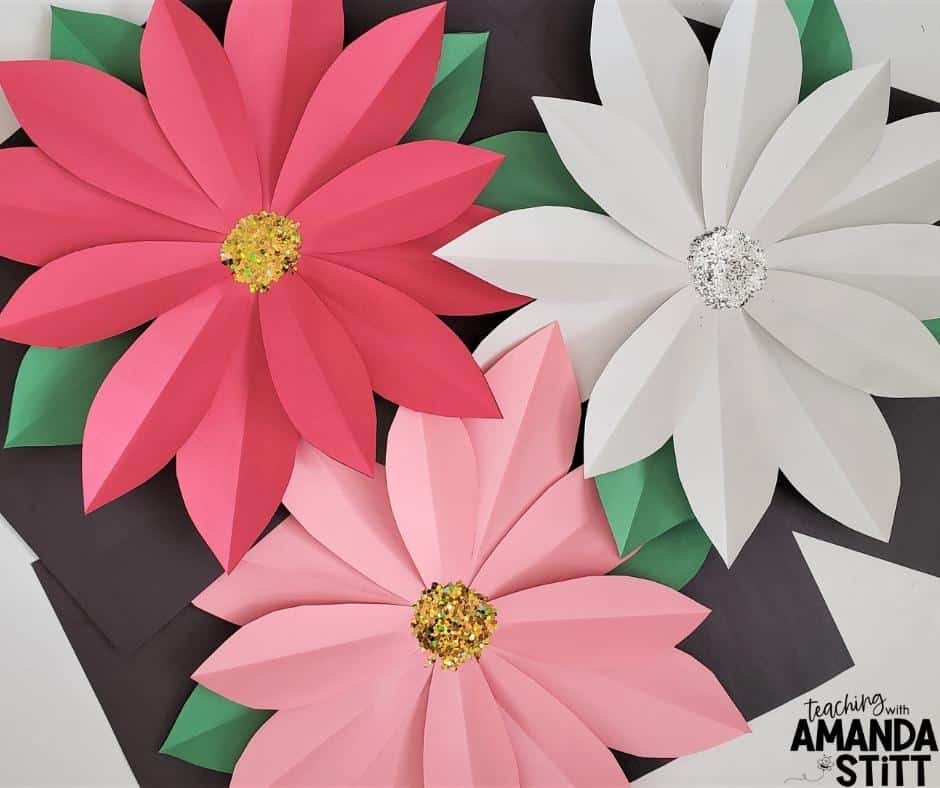 Read Rich Literature to Discover How Christmas From Around the World is Celebrated
Holidays are a time for family, friends, and reading! Christmas is celebrated all over the world, and there are many wonderful books that capture the festive spirit of different cultures. Here are some of my favorite holiday books…
So whatever the holiday tradition, there's sure to be a book out there that will give your students a new perspective on the season.
Winter Holidays Around the World Math Project
Math and Christmas may not be the first two things that come to mind when you think of each other. But with a little help, you can easily incorporate Christmas from around the world into your math lessons. Doing so can help engage students and add a festive spirit to your classroom.
My classroom always felt so festive when we were celebrating holidays around the world in December and then we'd hit math time and it felt like we lost some magic. I wanted to change that, so I created the Winter Holidays Around the World Math Project!
This engaging math project (available in 3rd, 4th, and 5th grade standards) includes 9 different holidays around the world. Holidays included are Hanukkah, Kwanzaa, Las Posadas, Christmas in Germany, Diwali, Santa Lucia, Christmas in Australia, Chinese New Year, and Christmas in America. The project is set up like a passport. Each page has a circle on it and once students correctly complete the page, they earn a passport stamp for that page before they move on.
In the upper grades, we always feel strapped for time when it comes to teaching all of the standards. Sometimes, we don't feel like we can do the "fun stuff". But this math project is completely aligned to grade level CCSS standards. Each math project perfectly aligns to grade level place value and algebraic thinking standards. A great way to review all of the skills you've taught during the first half of the year.
To check out this festive and engaging math project closer, click the grade level you need below.
STEM Projects
'Tis the season… for STEM projects! Yes, even Santa needs a little help from science, technology, engineering, and math to get all of those presents delivered on time. Here are a few ideas to get your students excited about STEM this Christmas season.
Do you know where Candy Canes were created? Germany! Legend has it that a choirmaster bent them to look like shepherd's hooks and handed them out to young singers as a way to keep them quiet during the church service. Candy canes make for some great STEM activities. Build with them! Dissolve them! Code with them! The options are endless.
Another great STEM project is to have students design and build their own gingerbread houses. This project can be as simple or complex as you like, but make sure to incorporate plenty of opportunities for problem solving and trial and error. After all, even the best Christmas cookies don't always turn out perfectly! Students can work individually or in teams, and they can even compete to see who can create the most structurally sound gingerbread house.
Another great option is a "12 Days of Christmas" STEM challenge. In this challenge, students will work in teams to complete 12 different Christmas-themed STEM tasks. This is a great way to incorporate some holiday fun into your lesson plans while also giving students the opportunity to practice their teamwork and problem-solving skills.
Winter Holiday Math Picture
Creating a winter holiday math picture is a great way to add some festive cheer to your classroom. And it's a perfect opportunity to teach kids about Christmas from around the world.
Here's how a math picture works. Students receive the problem solving page and solve the problems to discover how many of each item they need to draw. For example, the problem might say, "Draw a house with 2×2 windows. Draw 4×5 bright colorful lights around each window." Students would solve the problems and then draw the design based on the solutions. Such a fun and festive activity! And so easy to prep, all you need to do is give them the problem solving page and a blank sheet of paper.
Want to add a challenge and tie this engaging activity into your Christmas from around the world unit? Have students research house types in various countries that you've studied. Then have them complete the winter holiday math picture based on that style of house. What would a festive, holiday house in Mexico look like? In Sweden? In Japan? Such a fun way to add a little more culture to your math activity!
Grab this FREE activity and add it to your Christmas from around the world unit!
Get into the holiday spirit by bringing a variety of Christmas from around the world celebrations into your classroom. These festive activities will help you and your students learn more about different cultures while celebrating various winter holidays in a fun, engaging way. Be sure to grab these activities today so you can get started on creating some merry memories!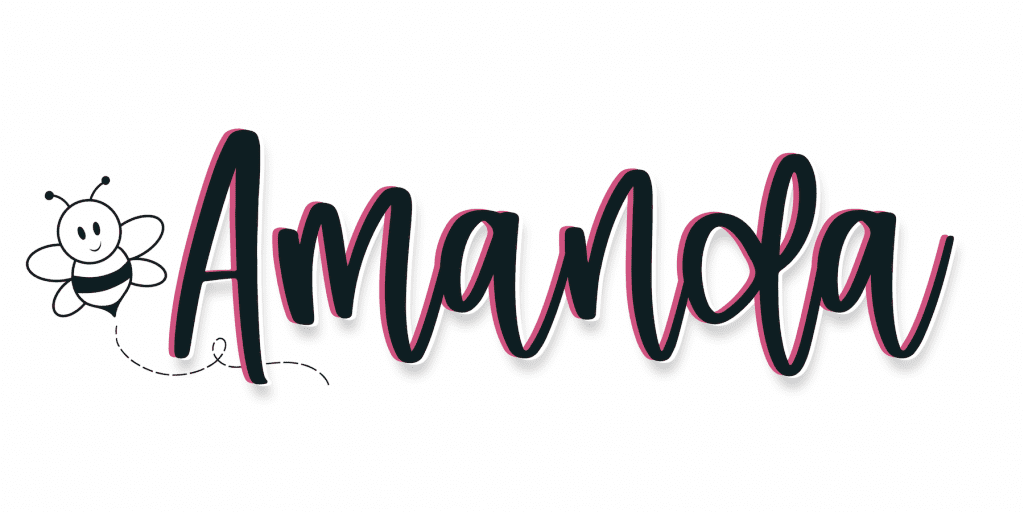 P.S. Are you interested in finding more engaging lesson ideas that you can use year round? Be sure to check out this page full of posts and resources to help you create an engaging classroom!