The Big Game is coming up soon, and you may be looking for some fun math activities to keep your students engaged. Here are three winning football math activities to try out in your classroom. No matter what team you cheer for, these activities are sure to get everyone excited for the big game!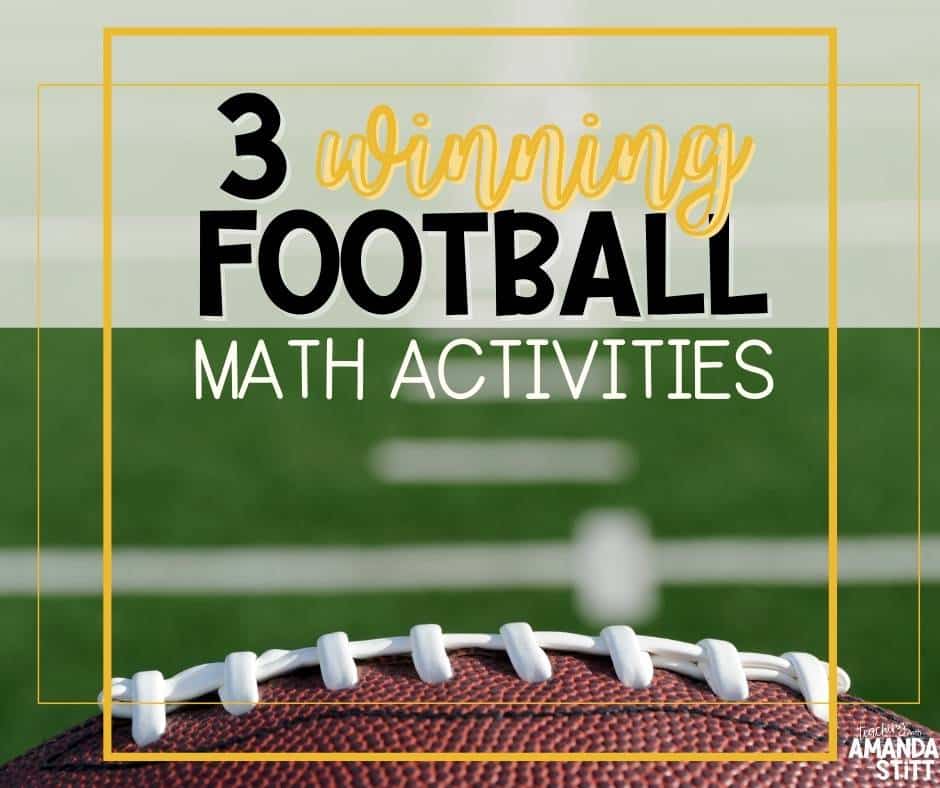 Open your playbook and use football math to teach measurement and geometry.
Here are some winning ideas for incorporating football into your geometry and measurement lessons.
1. Measuring the Distance of a Field Goal Attempt: Have the kids measure the distance of a field goal attempt. This will help them understand the concept of distance and how it is measured.
2. Calculating the Area of the End Zone: The end zone is a key part of football, so it makes sense to use it to teach kids about geometry and measurement. Have them calculate the area of the end zone, which will help them understand concepts like area and perimeter.
3. Create a Football Field: This is a great way to engage kids in football math. Have them create their own football field, using measurements from an actual football field. This will help them understand concepts like scale and proportion. You can have students build a football field to scale on paper or take them outside and as a class build one big field together! They'll be in awe of how large a football field really is.
Do these football math activities before the big game and they'll be looking for measurement and geometry properties throughout the entire game!
Score points with the Big Football Game Math Project!
Looking for an activity that is engaging and low prep? The Big Football Game Math Project is just what you need. This engaging football math project is a great way to review addition, subtraction, multiplication, and division. This project can be used as a review before any football game or before the big football game. This math project is available in 5th, 4th, and 3rd grade standards and is not team specific so it can be used year after year. Plus it comes with 2 BONUS pages for students to take home and use while they watch the game. Such a fun way to build on that big game excitement.
5th Grade Big Football Game Math Project
4th Grade Big Football Game Math Project
3rd Grade Big Football Game Math Project
Math projects are a fun and engaging way for students to practice math skills. They can engage even the most reluctant of mathematicians. Math projects are easy to differentiate, especially with this FREE place value differentiation toolkit. The place value differentiation toolkit has a variety of differentiation tools that you can easily print and give to your students to support their learning as they work through ANY math project that involves place value standards. Be sure to grab your toolkit below.
Create a classroom full of statisticians
Football is more than just a game – it's a veritable goldmine of mathematical concepts! By looking at football statistics, kids can learn about averages, percentages, and other essential concepts. For example, you could calculate the percentage of passes completed in a football game or find the average number of yards gained per pass play. All you need to do is give them a page filled with numbers from the game and have them find the averages, percentages, and more.
Take it a step further and discuss how critical math is in football. Discuss how teams use numbers to adjust their game plan before, during, and after a game. By understanding how football teams use numbers, kids can develop a stronger foundation in essential mathematical skills and how they can be used in the real world. And who knows – they might even develop a love for the game in the process!
The Big Football Game is just around the corner. While we all eagerly anticipate the big game, it's also a great opportunity to teach or review math concepts. With these football math activities, you can help your students get ready for the big day while completing some standards-based practice in the process. So what are you waiting for? Kick off the math fun in your classroom today!