Sometimes differentiation can feel overwhelming. Do you really need to have four different versions of an activity? Or do you really need to teach a topic five different ways? There are so many different classroom differentiation strategies!
I remember when I was in college, differentiation seemed so easy to try and achieve but when I walked into my first classroom of students, I felt smacked in the face with how difficult and overwhelming differentiation felt.
I think as we continue our journey as teachers our goal is to constantly find new classroom differentiation strategies and this math differentiation toolkit is one of my favorites.
In order to build support for the unique learners in my classroom, I've built differentiation toolkits. You can find the place value differentiation toolkit here. But let's dive into how we can use this classroom differentiation strategy of toolkits to practice fraction skills.
What is a differentiation toolkit?
A differentiation what?! A differentiation toolkit is a collection of classroom differentiation strategies that students use while practicing math skills.
The fractions differentiation toolkit includes a variety of differentiation tools such as visual models, number lines, vocabulary, and more that students can use while they are completing fraction tasks and activities.
How do they work?
A fractions toolkit is so easy to use and prep!
Each toolkit page comes with 3 empty boxes. From there you select 3 of the differentiation tools that you think would support your student the best and add them to the toolkit. Place the built toolkit in a page protector for students to use and reuse while completing fraction tasks.
You can create the same toolkit for each student or you can use a variety of classroom differentiation strategies that are unique to each student's learning preferences.
For example, do you have a student that is more successful when comparing fractions on a number line versus visual representations? In their toolkit, you can provide that student with number lines.
Toolkits are easy to customize to maximize success for each student that needs one.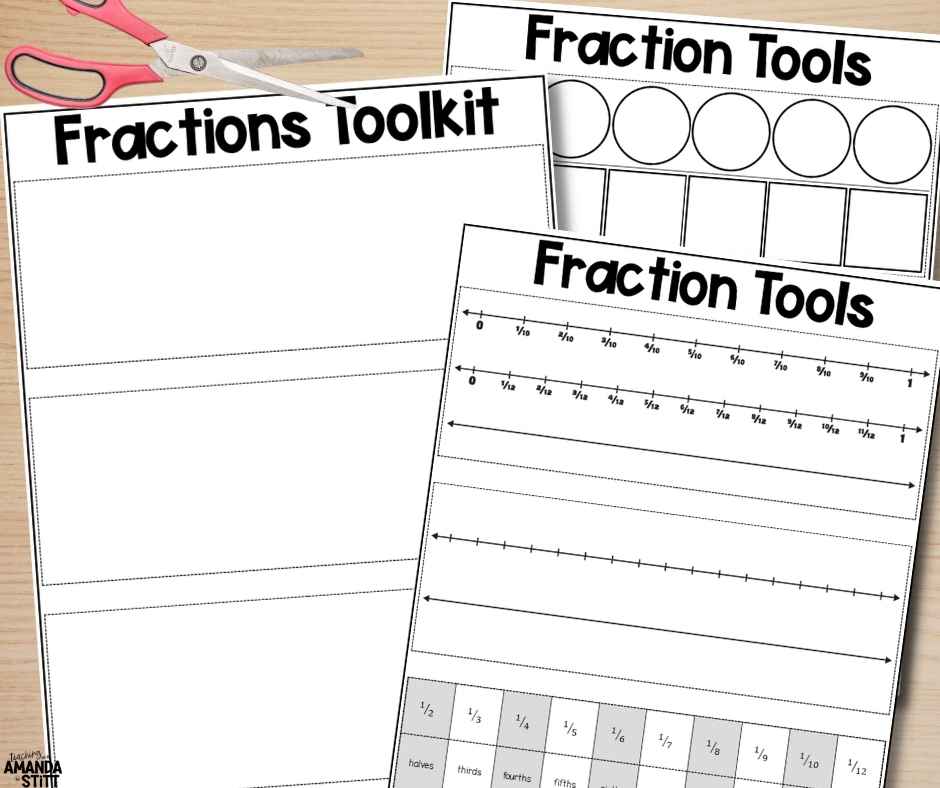 Who are toolkits for?
Any and all upper elementary students working on fractions skills.
The goal of a toolkit is to provide extra support to a student when working on fractions activities and tasks. So you can make a toolkit for students that need extra support or you can make them for all students to have when and if they need any extra support. Toolkits are classroom differentiation strategies that can be customized for each student.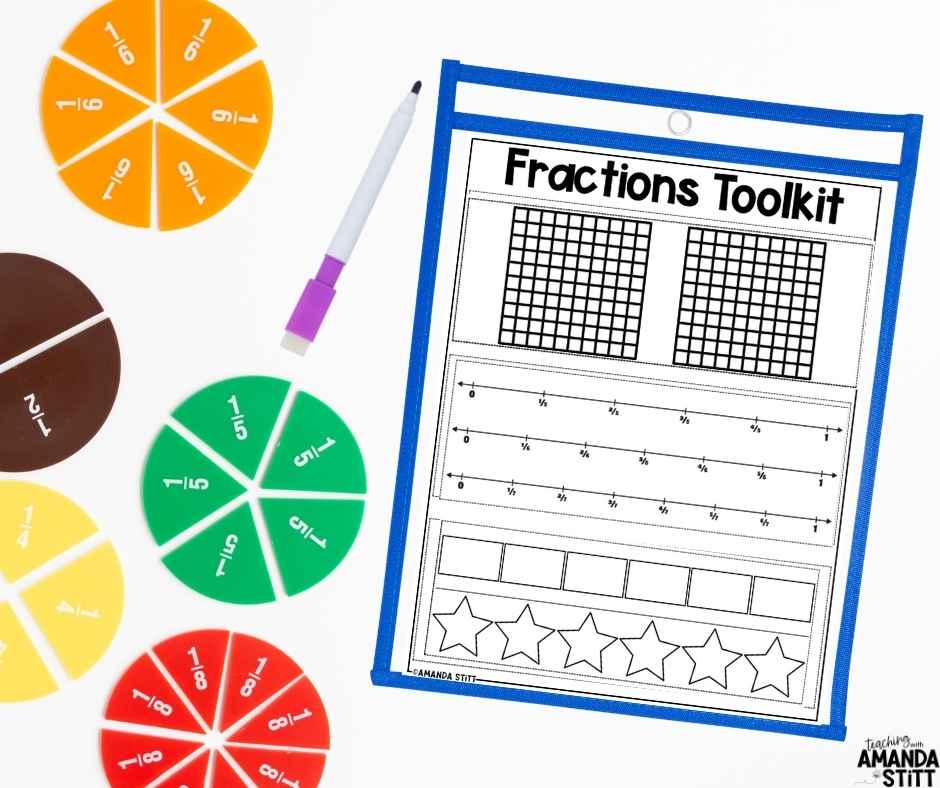 When can you use the toolkit?
The better question is when can't you use a fraction toolkit? You can use this differentiation toolkit in a variety of activities. Whenever students are working or trying to solve fraction problems they can use their toolkit.
If you make their toolkit and then place it in a page protector they will be able to use and reuse the toolkit over and over again.
Fractions math projects
I love to use the fractions differentiation toolkit when working on real-world math projects. These math projects are engaging and provide students with meaningful standard-based practice of fraction skills.
Differentiation toolkits provide a variety of differentiation strategies that students can use while working through the project. Build a toolkit that supports students with a variety of fraction skills or just one needed skill.
Here are some of my favorite math projects to use the fractions differentiation toolkit with…
Cupid's Fraction Factory (available in 3rd, 4th, and 5th grade standards)
Lucky's Bakery (available in 3rd, 4th, and 5th grade standards)
You also can use the fractions differentiation toolkit to help students with morning work, worksheets, assessments, and more. The options really are endless.
A fractions differentiation toolkit includes a variety of classroom differentiation strategies that will support 3rd 4th and 5th grade students practicing fraction skills.
So what are you waiting for?
Grab your free fractions differentiation toolkits here and add this new strategy to your teaching toolbelt!
Let's get building!